Hello! This doc is meant to guide you through how to recreate my exact IKEA greenhouse cabinet setup (as of August 2020), including product links and how to install them.
I've been using this greenhouse for 7 months now, and I originally set it up to provide my humidity-loving aroids with a more optimal growing environment, while looking more aesthetically pleasing than a plastic Amazon greenhouse so that I can better enjoy my plants!
Although many people have been building IKEA greenhouse cabinets more recently, when I first build mine there was not a lot of info on how to do it, so I've gone through several rounds of trial and error to figure out what works best (for me). So I thought I'd write this guide to help anyone who wants to make something similar and answer the most common questions about the cabinet in one place.
If you have any questions not answered here, reach out to me on Instagram at @jolovesplants. And if you do create a greenhouse using this guide, I would love to see it – tag me in your posts or send me pics!
Other great resources / acknowledgements
My setup is only one of many. If you haven't already, please check out these other amazing resources too:
Disclaimer
I am just a hobbyist, not a botanist or expert of any kind. This is just what works for me and my plants after a few months of experimenting.
The setup
This is the setup that I'll be describing in this guide: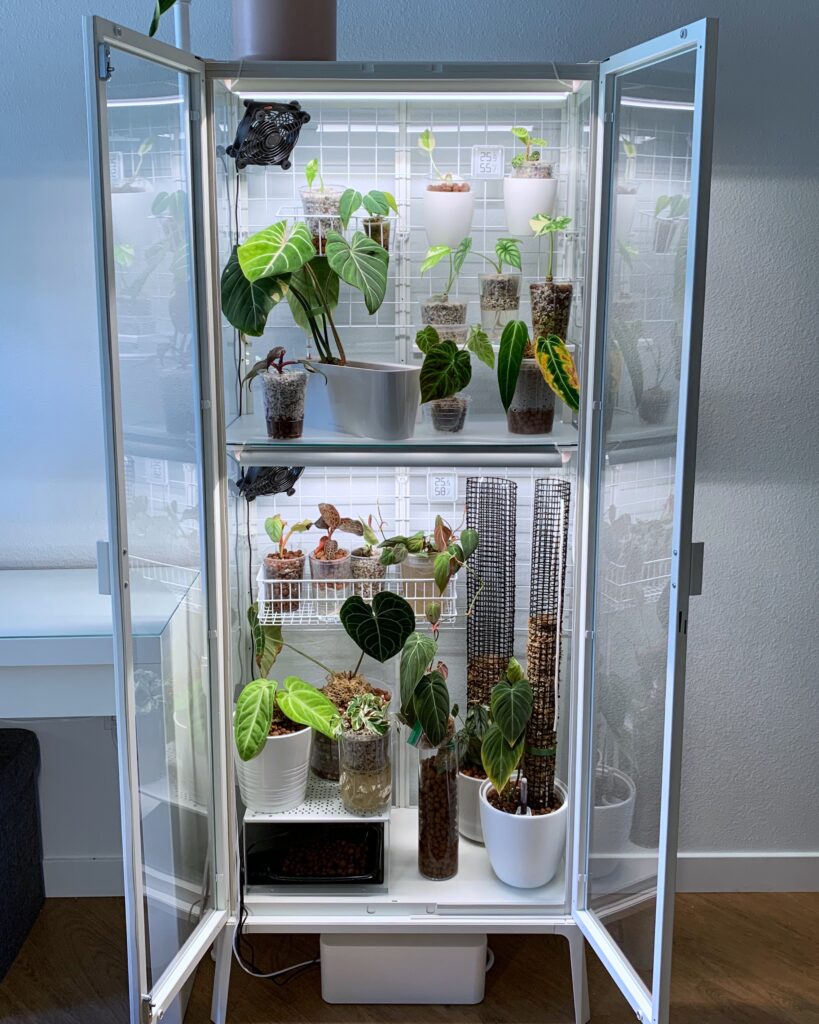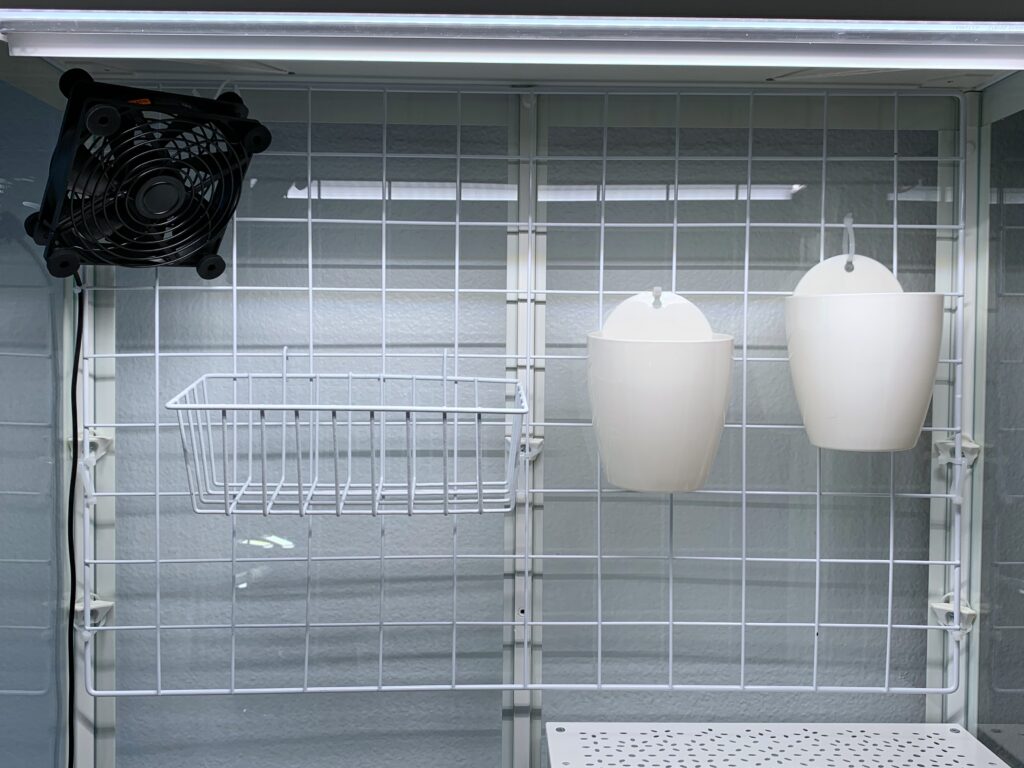 Full product list
Let's kick it off with the most commonly asked question – where did I buy everything? Feel free to reference this section if you just want quick product links, but read the later sections for more discussion on each of them and tips on how to install them. Also included below is a numbered image to help you visualize where each product goes.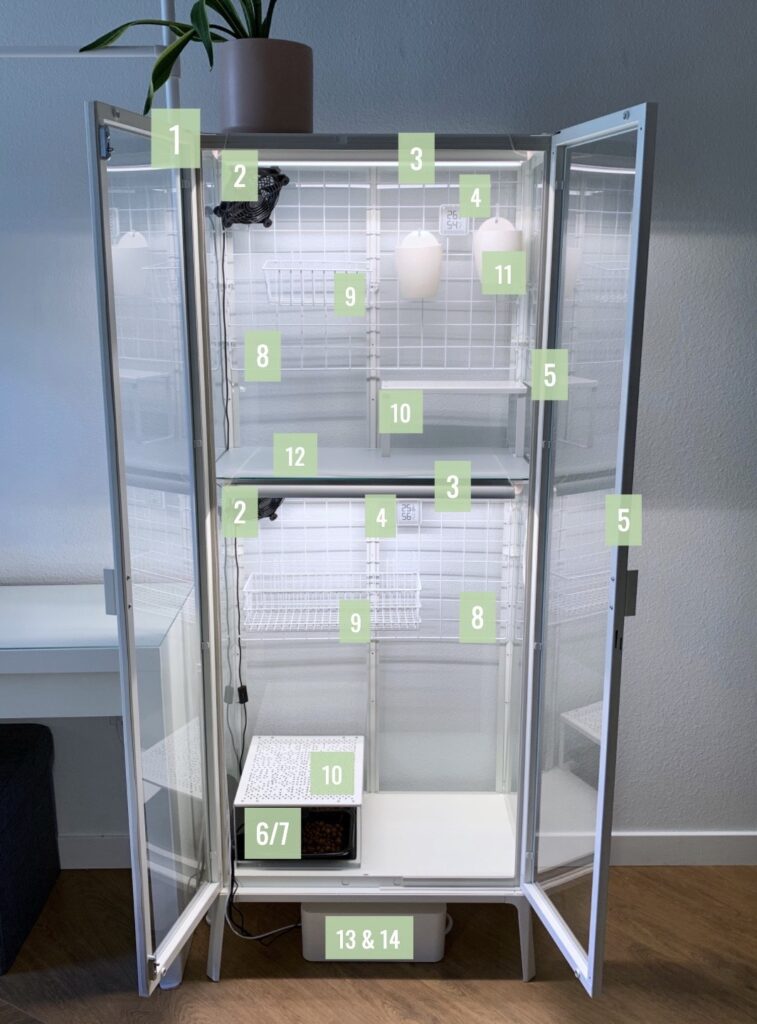 Minimum products needed for a basic setup
# in pic
–Product–
Price
–Link(s)–
Why this one?
1
IKEA Milsbo glass cabinet
$199
IKEA US
This cabinet is made entirely of metal and glass, so you don't have to worry about wood rotting from high humidity or anything. It's also much bigger than other popular options like the IKEA Fabrikor and Detolf, which means more room for plants!

Check Craigslist and FB marketplace before buying new from IKEA – I actually got mine brand new from Craigslist at a discount!
2
Fans
$26
Amazon
It is really important to add some fans for airflow in an enclosed space, in order to prevent issues like mold and fungal diseases. I run my fans 24/7.

These fans in particular are meant for cooling down electronics, so they're designed to be run continuously for long periods of time, unlike the mini desktop fans that a lot of people like to use. These are rated to run for over 7 years, according to the product page.

Also really important – these can be daisy chained together, so you can have multiple fans in your cabinet that share the same power outlet, and you don't need an extension cord for the fans that are farther from the outlet.

These are also super quiet even on the highest speed. The desktop USB fans I used at first started getting loud after ~2 months, so I would not recommend those. I have also heard from others that they can easily rust and break from the high humidity after a few months.

The power cord is thin enough to fit in the gap between the cabinet frame and doors.
3
Grow lights
$65-75
Amazon – lights

Amazon – flat power cord

Amazon – nano tape
If your cabinet is going to be near a window with lots of natural light, you might not need these. But adding grow lights means you can pretty much put your greenhouse anywhere you want. Mine gets almost exclusively artificial light.

These lights are very bright and sun-like, but come with reflectors so they don't hurt to look at. They actually make my living room feel quite cozy, like it's always sunset.

They are the perfect length for the Milsbo cabinet, and you can daisy chain up to 6 lights together so they share the same power outlet.

The connecting cables are very long, so you have a lot of flexibility in how far apart to space your shelves.

However, the power cord is too thick to fit between the cabinet frame and doors. So I replaced it with the linked power cord, which is flat and fits perfectly. You wouldn't need these if you choose to drill a hole in your cabinet for power cords.

Also linked is the nano tape I used to attach the lights to the cabinet. I do not recommend the 3M strips that come with the lights, as mine fell after about 2 months of use.
4
Hygrometer/
thermometer
$10-$30
Amazon – option 1

Amazon – option 2
I consider the hygrometer essential because I'm assuming most people want to set up this cabinet to provide a high humidity environment, and you can't be certain it's working without measuring it! A built in thermometer is useful too, as I've noticed these greenhouse cabinets can sometimes get very hot with all the grow lights on, so it's good to be able to monitor and make sure your plants are not overheating.

You can really use any hygrometer, I've just linked a few examples that I like here. Option 1 is just pretty and easy to read from any angle due to the e-ink display. Option 2 is great if you want to monitor humidity and temperature from your phone. You can choose to get just one, or a separate one for each shelf in your greenhouse.
Total cost: approximately $300-$330
Products for humidity
You do not need to use all of these products to keep humidity up in your greenhouse, these are just some options. See the "Humidity" section below for more discussion to help you decide which products you need.
# in pic
–Product–
Price
–Link(s)–
Why this one?
5
Weatherstripping tape
$7
Amazon
The Milsbo has some pretty large gaps between the frame and the doors, so it doesn't seal in humidity very well on its own. This window weatherstripping tape is the perfect thickness (3 mm) to fit in the gap between the frame and the door, but leave a tiny bit open for airflow.
6
Heat mat
$13
Amazon – Vivosun Heat Mat
A heat mat with a tray of water on top can be an easy way to increase humidity. I don't currently use this setup, but I did at one point. I didn't actually use it to provide warmth, as I've found the cabinet already gets warm enough from the grow lights. But of course, the heat mat would also be useful if your cabinet lives in a cold room.

Any seedling heat mat will probably work fine, but I've used this particular one for propagations for 9+ months with no issues, so I got a second one for the cabinet. The size fits pretty well.

It also has a flat power cord, so if you don't want to drill a hole in your cabinet like me, the cord fits in the gap between the cabinet and the doors.
7
Humidifer
$50
Amazon – TaoTronics 4L humidifier
I've experimented with a few different humidifiers, and this is the best one so far.

It is small enough that it doesn't take away too much space for plants, but has a big enough capacity that I only have to fill it up once every ~2 weeks.

Most importantly, it has a built-in hygrometer so it can be set to automatically maintain a certain humidity level, so you can just set it and forget it.

Note however, this humidifier vastly under-measures humidity. I set mine to 55% humidity in order to maintain a constant 75-80% humidity in the cabinet. But hey, it works!

Other options I have tried, and why I didn't like them:

(1) A small portable travel humidifer – this sucked, I had to refill it multiple times a day due to the small capacity, had to manually turn it on and off, and it did not produce a fine mist like the higher quality humidifiers so it would soak the glass. The only nice thing about it was that it was so small.

(2) The very popular Levoit LV600HH – this is generally a great humidifer, but it does not work well in enclosed spaces. The built-in hygrometer always thinks the humidity level is 90% and won't turn on, so this one also needed to be turned on and off manually. It also takes up a lot of space, and the large capacity is really overkill for a small greenhouse.
Total cost: anywhere from $10-$70 depending on what you choose to buy
Products for organization
Similar to above, you don't necessarily need to get all of these, and I don't use all of them at once – just pick and choose which ones make sense for you to organize your plants how you like!
# in pic
–Product–
Price
—Link(s)––
Why this one?
8
Wire grid
$25
Amazon – set of 2
Adding a wire grid or two makes it so much easier to maximize use of space in the cabinet.

The colour of this one in particular matches my white cabinet and the dimensions fit perfectly without cutting. Comes with a set of two so I can install one on each level.

I prefer this over the IKEA Skadis pegboard that a lot of folks have been using, because it's easier to customize without being restricted to IKEA items, and I think it looks more subtle too. Also if you have a window or light source behind your cabinet, this wire grid will not block the light like a pegboard would.

You don't need to get this exact one though, there are plenty of other wire grid options on amazon if you're looking for a different colour. Just note the dimensions to make sure it will fit your cabinet.
9
Shelves for wire grid
$10-15 each
Amazon – small

Amazon – large

Amazon – medium (x2)

Amazon
These shelves are all designed to hook onto the wire grid and are easy to move around as your plants grow and your needs change. I've linked a few options, which can fit anywhere from 3 inch to 5 inch pots (I would not recommend putting anything larger on these anyways).

There are also plenty of other options on Amazon – look up something like "wire grid accessories". Just make sure you check the dimensions and get whichever ones suit your needs!
10
Shelf risers
$6-9 each
IKEA – shelf riser (small)

IKEA – shelf riser (large)

The Container Store – acrylic risers
Shelf risers are great for adding some visual depth to your cabinet and bringing smaller plants closer to the grow lights.

The IKEA Variera shelf risers are cheap, match the white cabinet nicely, and you can pick them up when you pick up your Milsbo!

I also really like the almost invisible look of the acrylic risers from The Container Store.
11
Wall hanging planters
$25
Amazon
The is an alternative to wire baskets, that can be attached to the wire grid using zip ties or S hooks.
12
Shelf liner
$29
Amazon
This is another thing that is totally optional! I find the feeling of ceramic planters scraping against the glass shelves and metal bottom of the cabinet really unpleasant, so I got this plastic shelf liner and cut it to size to line the shelves. They are thick and easy to clean, and translucent so they don't compromise the aesthetics of the glass shelves.
Total cost: really depends on what you choose to buy! My current setup is using about $70 worth of organization-related products.
Products for cable management
# in pic
–Product–
Price
–Link(s)–
Why this one?
13
Power strip with timer
$23
Amazon
This acts as a surge protector, power strip, and mechanical timer all in one. I have my grow lights plugged into one of the timed outlets, and my fans and humidifier are plugged into the always-on outlets.
14
Cable management box
$15-25
Amazon
This is totally optional, but the power strip linked above fits perfectly inside the medium size box, and it hides away the mess of wires under the cabinet for a cleaner look.

Since this comes with a set of two, I use the larger box for organizing my passive hydro nutrients and other plant supplies.
15
Zip ties
$5-15
Amazon
I used zip ties for everything – installing the wire grid, attaching wall planters, attaching the fans, cable management, etc. It's nice that this set contains a bunch of different sizes so you have everything you might need.
Total cost: anywhere from $25-$60 depending on what you choose to buy
Humidity
There are lots of options for how to increase the humidity in your cabinet, but what works for you will depend on your conditions.
My household humidity is usually around 40%. Currently, I maintain about 75-85% humidity in my cabinet, which is ideal for my collection of mainly anthuriums and philodendrons. To do this, I currently have the following in my setup:
Weatherstripping to seal the gaps around the cabinet doors
A humidifier set to automatically maintain the desired humidity level
Lots of plants in passive hydro setups, which basically act as humidity trays
However, your needs will vary depending on your household humidity and what kind of plants you intend to keep in your cabinet. If you live in a fairly humid climate, you may not need to do much other than setting up the cabinet. If you live in a very dry climate, maybe you'll want to skip straight to investing in an automated humidifier. I've tried several different methods, so below is a table that summarizes all the options and approximately how much of a humidity level increase you can expect from each one. Also a few things to keep in mind:
Humidity tends to rise in summer and decrease in winter. So, you may need to make some adjustments to keep humidity up as winter approaches, or remove some things when summer comes around
Whatever your humidity is, it will be naturally be 5-10% higher at night time, as temperatures drop and plants transpire more at night
Method for humidity
—Notes————————
Approx increase (compared to household)
Nothing, just the cabinet plus plants
The Milsbo cabinet has some pretty large gaps, so by itself I've found it doesn't hold much humidity at all. The more plants you put in the cabinet, the higher the humidity will be.
+5-10%
Add some passive hydro plants
This won't be an option for everyone, but after I converted all of my plants from soil to passive hydro a few months ago, the humidity in my cabinet naturally increased a bit.
+5-10%
Weatherstripping
Adding weatherstrips to seal the gaps around the cabinet doors helps seal in humidity. However, I do not recommend sealing the cabinet too tightly, to allow some airflow. What I would recommend is partially weatherstripping the gaps, combined with one of the other options below.
+10-15%
Water trays (with optional heat mat)
Just adding some trays of water around the cabinet helps increase humidity. Placing a heat mat underneath a wide tray of water will increase it even more. However, you'll probably want to avoid the heat mat if your cabinet is already very warm.
+10-15%
Humidifier
An automated humidifier is really the only surefire way to consistently maintain a specific humidity level. With all the other methods, your humidity level will likely vary as the seasons change.

As noted in the product list section, I strongly recommend getting a humidifier that has a built in hygrometer and can be set to automatically maintain a set humidity level. This ensures you don't need to manually turn it on and off all the time, and avoids soaking your cabinet with water. My humidifer only turns on for a few seconds once every few hours, and I only need to refill it maybe once every 2-3 weeks.

Another option is to get an Inkbird humidity controller with a humidifier that has an analog on/off switch. I have not tried this myself, but this method would probably give you the most accurate humidity levels.
+∞% (depends on whatever level you set your humidifer to)
Mini fountain*

*I have not tried this method myself, so I can't say how much it would increase humidity. However I have seen it recommended a few times and sounds like it would work well!
?
Lighting
How do you hang the grow lights?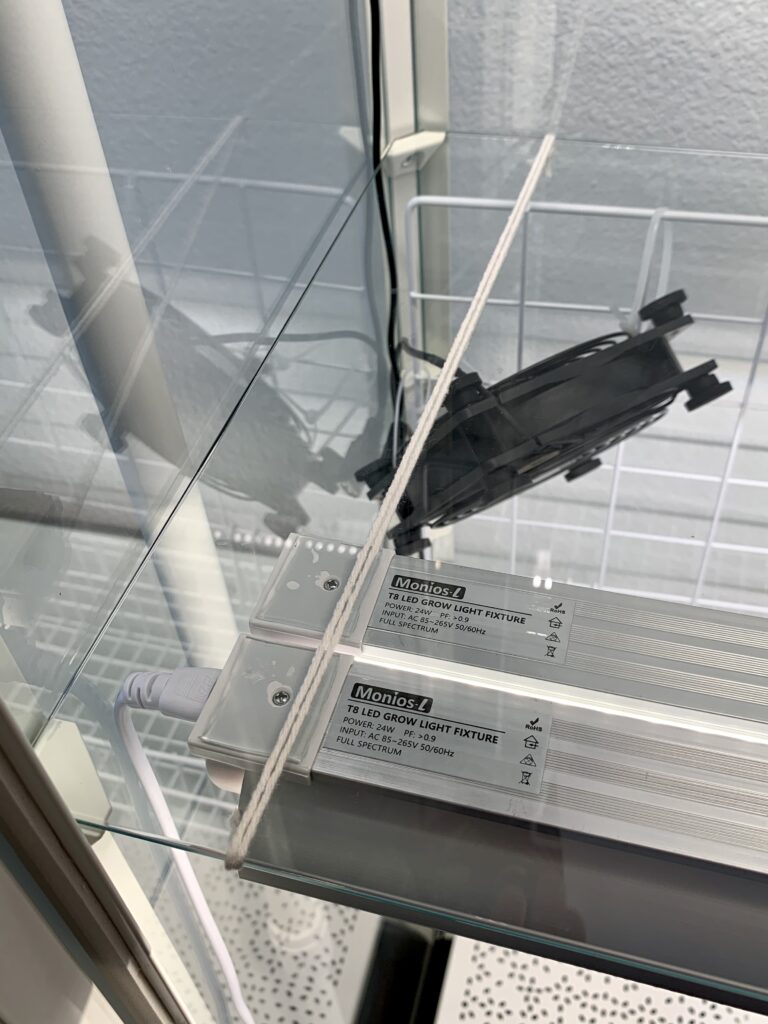 I simply stick my lights onto the glass or metal using the nano tape recommended above.
In the beginning, I used the command strips that come with the lights. After two months, the lights started falling. So I do not recommend those command strips, and in general I do not fully trust any adhesive to hold forever in this high humidity environment. So as an extra precaution, I also tie a string around the lights and glass just in case the adhesive fails (see picture).
How far should you place the grow lights from the plants?
This is a tricky one, and I'm not sure I've perfected this yet but here's some guidance. Dustin from the Here But Not blog recommends around 150-350 umol/m²/s PPFD of light for most low to high light aroids (anthuriums, philodendrons, and monstera). To apply this to my grow lights, I checked the the PPFD diagram for the lights I use, shown below: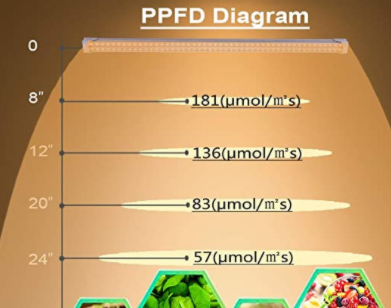 PPFD is additive, so that means with two lights per shelf, with plants kept about 12″-20″ away from the lights, they will receive about 166 to 272 umol/m²/s PPFD of light, which falls within the recommended range. If you choose to use different grow lights than me, try and find a PPFD diagram from the manufacturer so you can make a similar calculation.
In foot candles, my plants receive about 500 FC of light at the lowest, and 1200 FC of light at max – as measured with a light meter: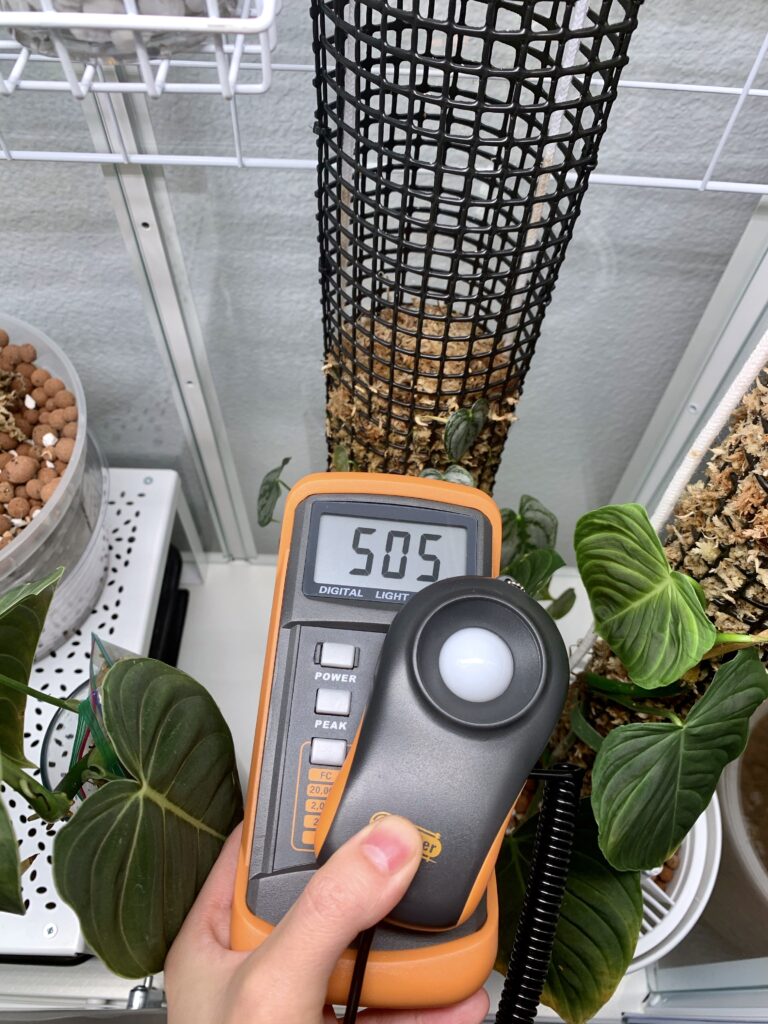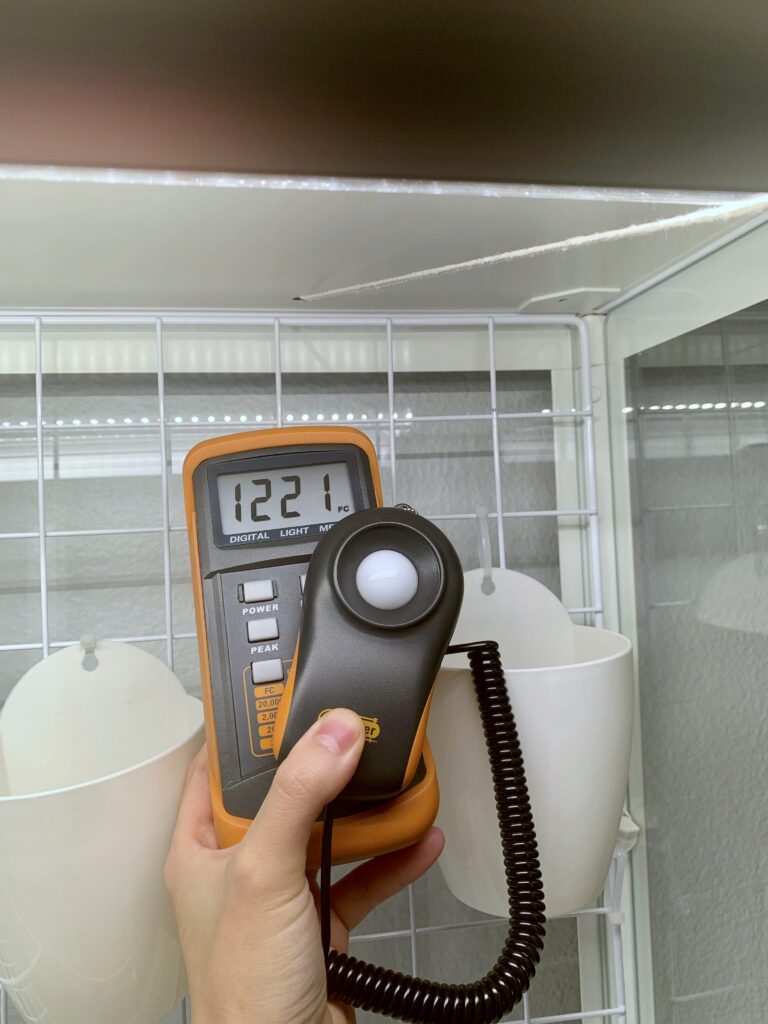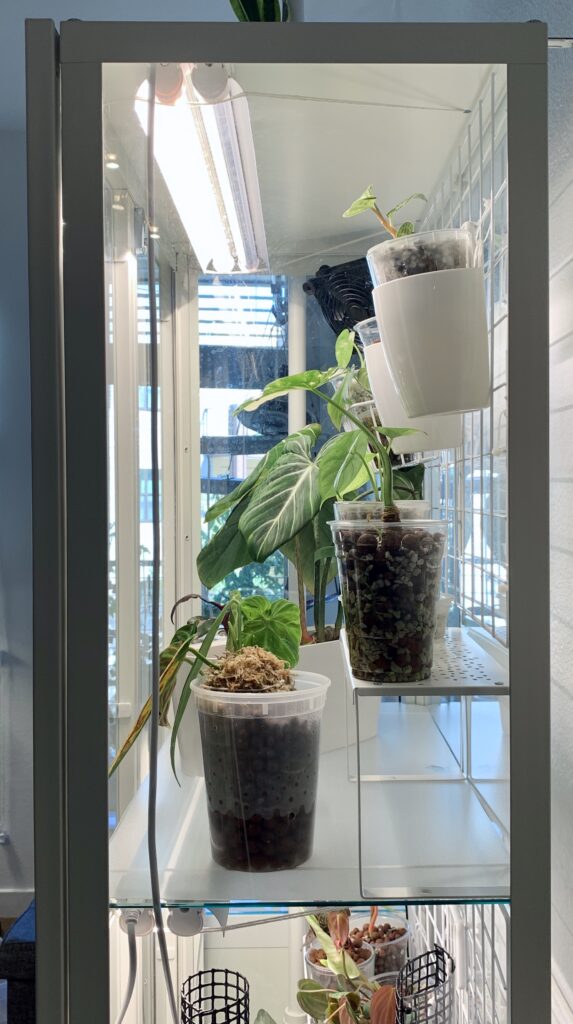 One more tip I have is to position your lights towards the front of the cabinet (instead of in the middle of the cabinet), with a reflector on the front side – this ensures that even plants hung up higher on the wire grid don't get too close to the light
Airflow
In an enclosed, high humidity space like this, airflow is super important. Without it, your cabinet might develop mold and your plants could be susceptible to fungal diseases or rot. I run my fans 24/7 to be safe.
The electronics cooling fans recommended in the product list above are designed to run continuously and are rated to last for over 7 years. I do not recommend using cheap desktop USB fans because they get very loud over time, and can rust and break from the high humidity after a few months.
How do you install the fans?
My fans are attached to the wire grid panels using zip ties. Pictures probably explain it best: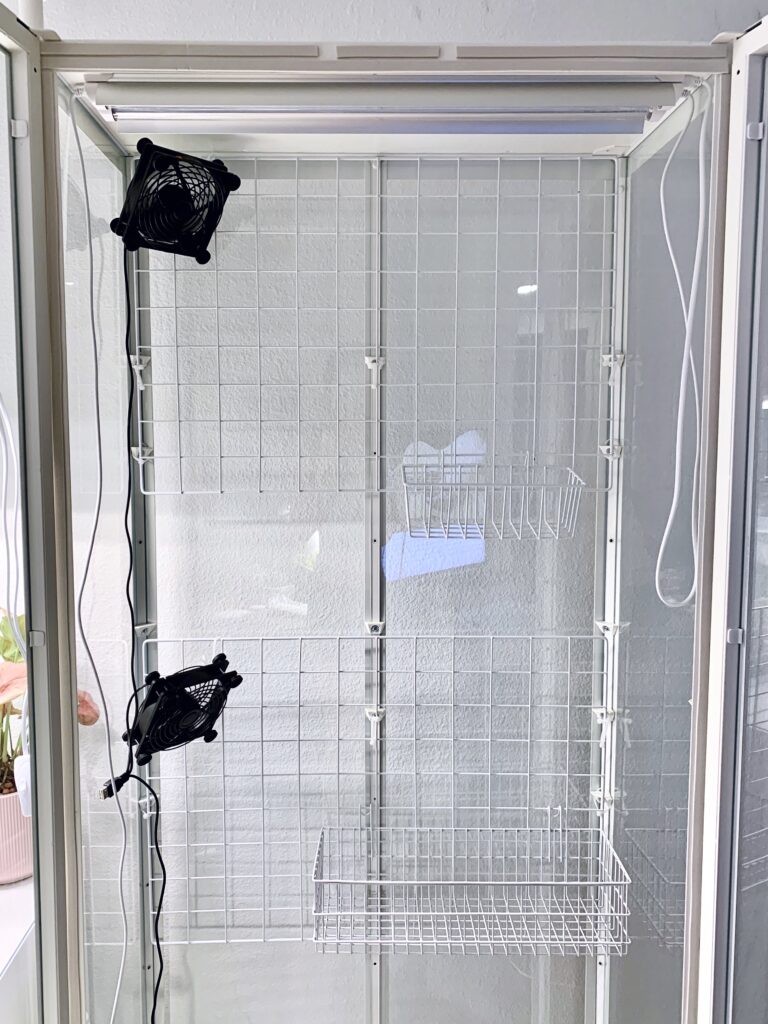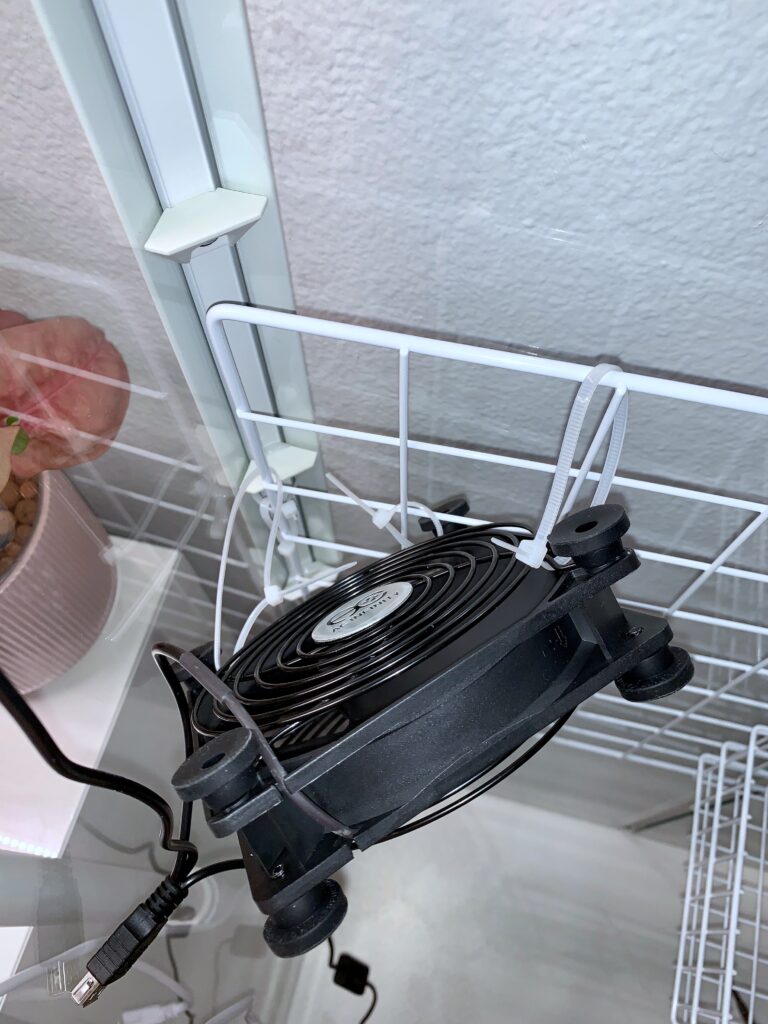 Very important: notice which direction your fans push out air, and make sure you do not position the back directly against the glass. If you do this, the fans will not be able to intake air and won't actually circulate air properly. Make sure there is at least a good 1-2 inches of open space behind your fans.
Note: if you have these fans, you might notice in the pictures it looks like my fans are backwards. This is because I switched the covers to hide the side with the logo. My fans are pointed such that they push air downwards towards the plants, not towards the cabinet.
How much airflow do you need?
In general, the direct airflow from the fans should be pointed adjacent to the plants, not directly at them (this would dry them out too much). What I try to look for is that the leaves in my cabinet are just sliiightly swaying, if you look very closely.
More quantitatively, the book Gardening Under Lights recommends that enclosed grow tents should have enough airflow such that all the air circulates fully once every 3 to 5 minutes. How can we determine if a particular fan provides enough airflow to do this? Some fans provide an airflow rating in CFM (cubic feet per minute), which we can use.
The approximate internal volume of the Milsbo is:
2.2 ft x 1.2 ft x 5 ft = 13.2 cubic ft
Let's assume we want the air to circulate once every 3 min. Then the CFM rating we need would be:
13.2 cubic ft / 3 min = 4.4 CFM (cubic ft/min)
So, make sure your fans have a rating of at least 4.4 CFM. The fans recommended in the product list have an airflow rating of 52 CFM each on max speed, so 104 CFM total since I have two fans, which should be more than enough.
I run my fans on the highest speed 24/7, but if you find that dries your plants out too fast, the recommended fans should provide enough airflow even on the lowest speed.
Automation
The greenhouse cabinet more or less runs itself. All I need to do is water the plants every few days, and fill the humidifier and clean the cabinet every 2-3 weeks. The automation is pretty simple:
Grow lights
My grow lights turn on for 14 hours a day, and are simply controlled by a mechanical timer on a power strip. A smart power strip would also work just as well!
Humidifier
The humidifier I chose has a built in hygrometer and can be set to automatically maintain a set humidity level. In practice, it turns on by itself for a few seconds every hour or so, and lasts for about 2-3 weeks.
This works just fine, but if you're interested in setting up a super accurate humidifier system, you can look into getting an Inkbird humidity controller with a humidifier that has an analog on/off switch.
Another alternative that seems to work well is to use a smart power strip with a humidifier with an analog on/off switch, and configure it to turn on for ~10 minutes every few hours.
Cable management
My cable management is pretty simple – all my wires are flat or thin enough to fit in the gaps between the shelves and the glass, and I run them out the gap between the frame and the doors (see pictures below). I did have to buy a separate power cord for the grow lights that was thin enough to fit out the doors.
Although I didn't do this, many people choose to drill a hole in the bottom of the cabinet to run wires out. This is a great option if you don't want to worry about making sure all your wires are thin enough, and provides a neater look.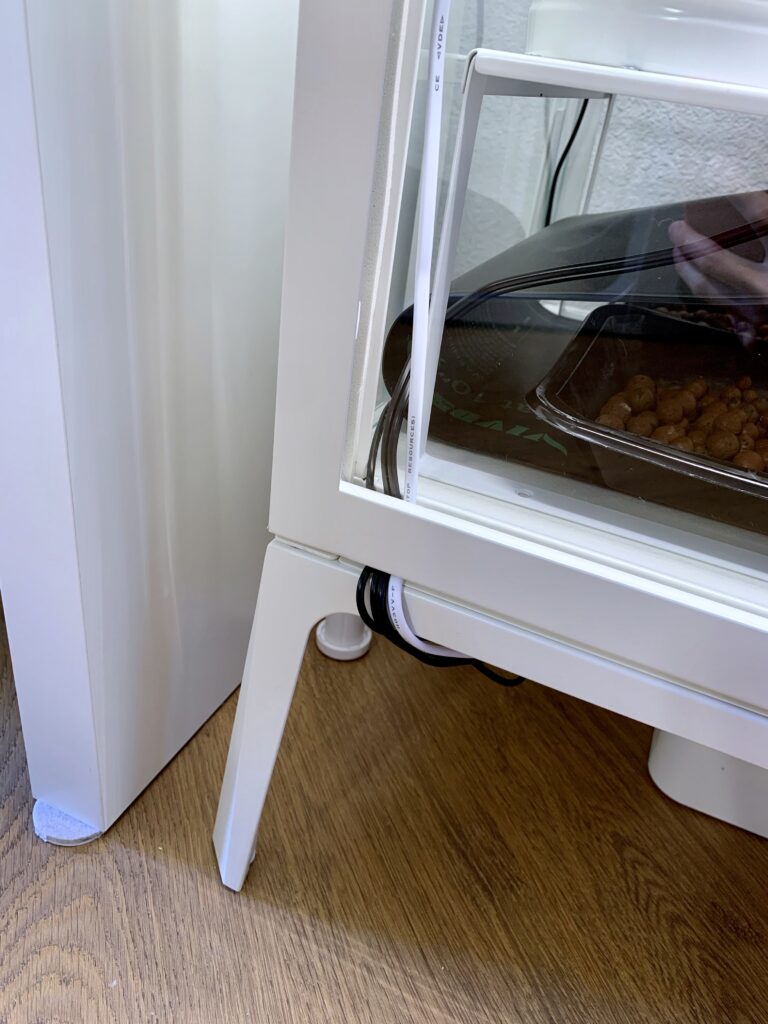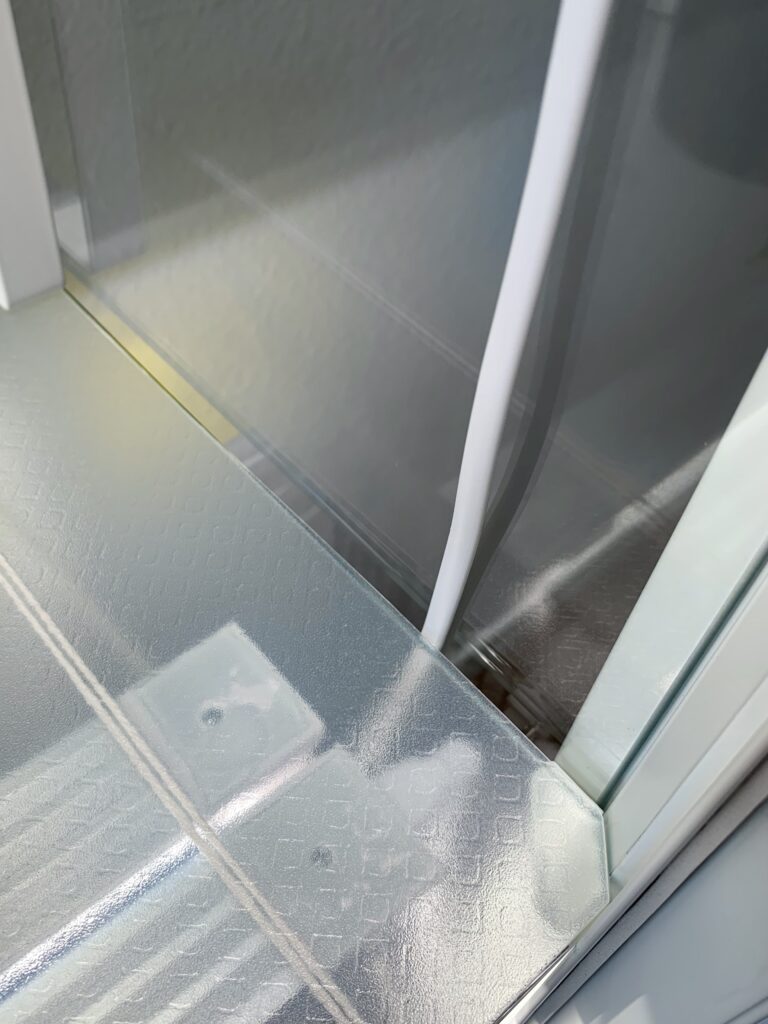 I tuck my power strip into a cable management box underneath the cabinet to keep everything neat. Here's what the inside of the box looks like: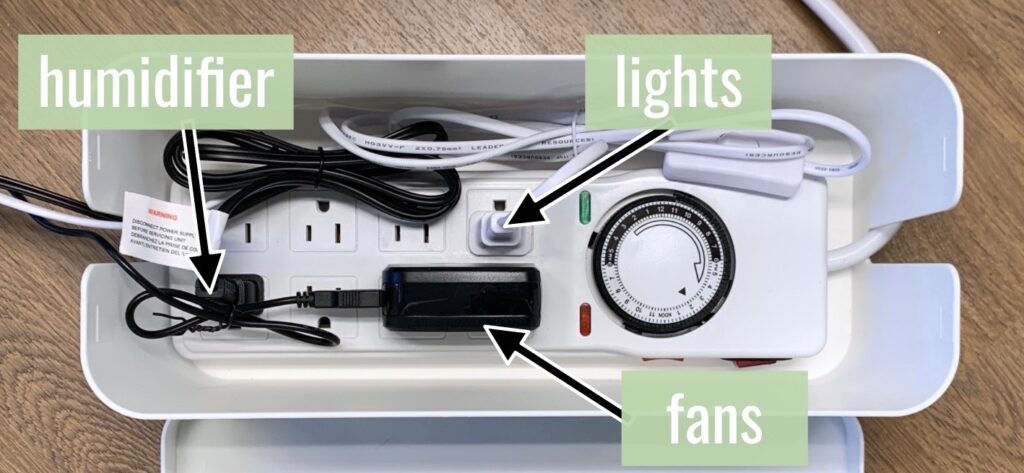 Organization
Everything in this section is completely optional. It's perfectly fine to put all your plants directly on the cabinet shelves, however I found that it wasn't the most efficient use of space. Adding the following additions gives you a lot more flexibility in where you can position your plants, and also adds some visual interest to the cabinet:
A wire grid in the back – allows you to attach accessories like wire shelves to hold small plants closer to the grow lights, and provides a convenient way to attach the fans
Shelf risers to raise up smaller plants in the back of the cabinet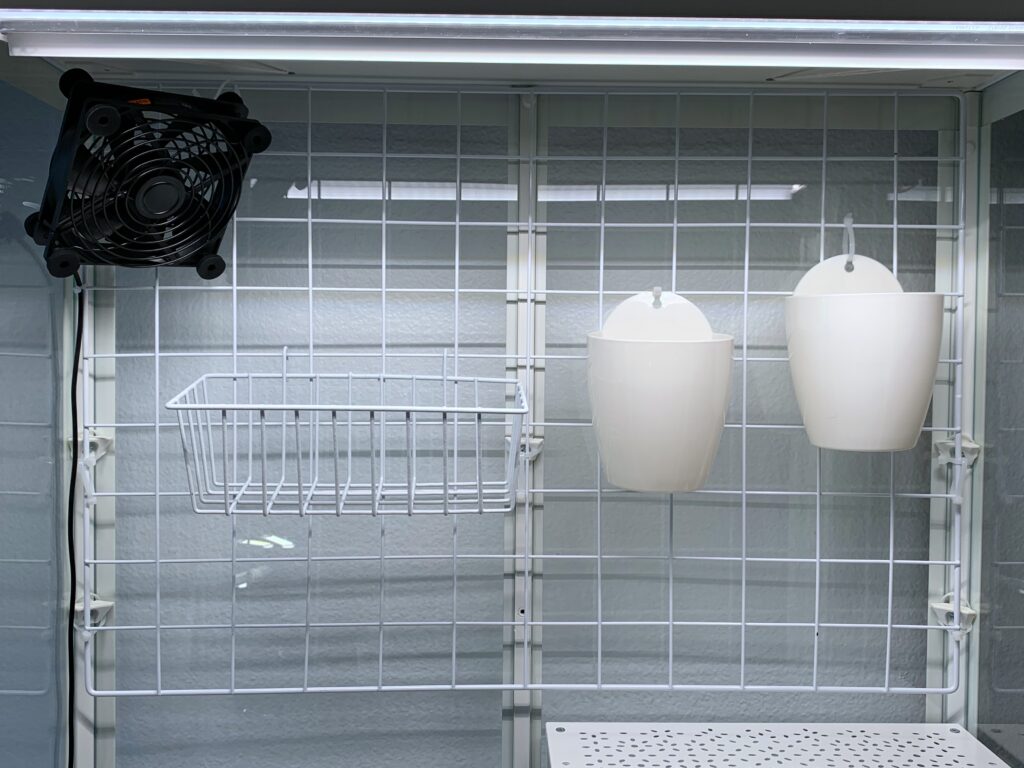 How do you install the wire grid?
This might be the second most commonly asked question about my cabinet! I installed the grid by attaching it with zip ties to the shelf brackets that come with the Milsbo. Try to tighten the zip ties such that the weight is evenly distributed across each bracket, to minimize risk of anything falling. See pictures below:
FAQs
I've tried to answer most of the most common questions throughout the rest of the guide, but if you have any questions not answered above, reach out to me on Instagram at @jolovesplants. I'll periodically add them here:
Do you have to mist the cabinet?

Nope, the humidity stays high enough with the methods mentioned in the 'Humidity' section

Any issues with mold growth?

No, I have not had issues with mold. I think this is because I run my fans 24/7, and I would recommend you to do this too!

Have you had any issues with rust?

No, I haven't had any rust in the 7 months I've had my cabinet. However I have heard of other people who have experienced this! Make sure that if you run a humidifier, it is regulated by a hygrometer so it doesn't soak the cabinet, and ideally have a fan on each level to evenly distribute moisture. And if you decide to drill a hole in the cabinet, make sure to seal any exposed metal with an anti-rust spray.
Setup evolution
Here's an evolution of my cabinet setup over the past few months, in reverse chronological order!
September 2020: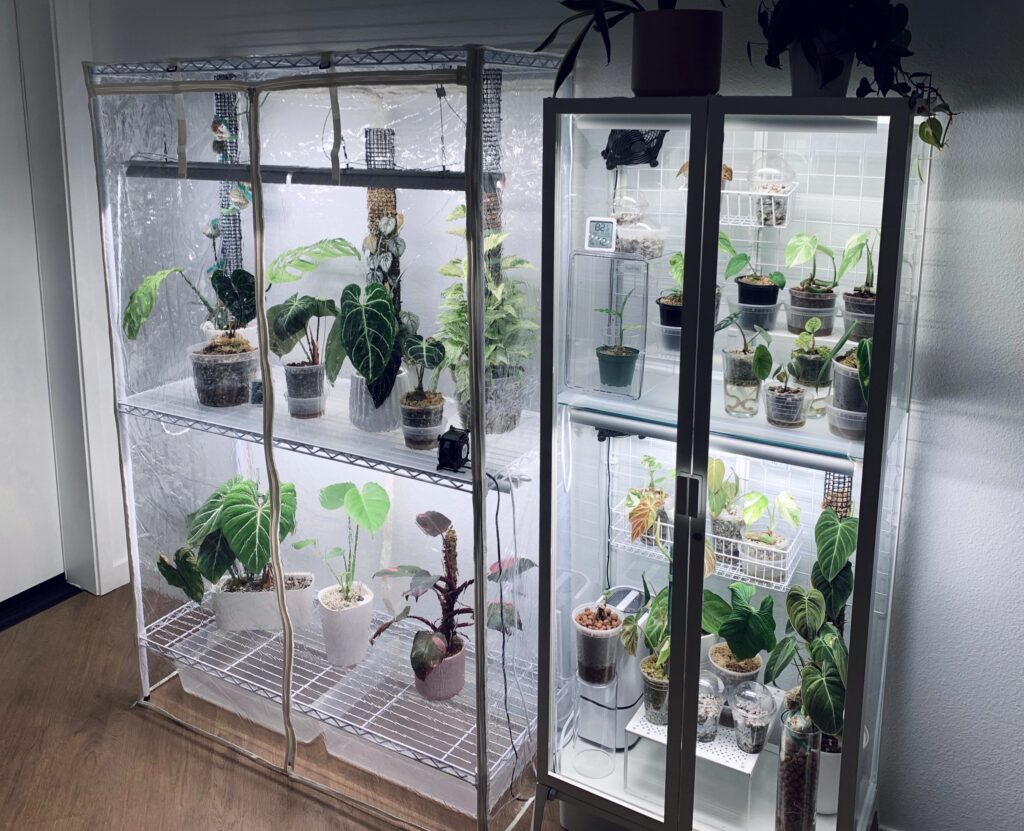 https://www.instagram.com/p/CGc5eKxgN2A/
July 2020:
https://www.instagram.com/p/CCmsocgggOj/
June 2020:
https://www.instagram.com/p/CAoV-MWAS96/
May 2020:
https://www.instagram.com/p/B_0UjVRguLt/
March 2020: